When you have an amazing garden at home, you definitely need a place to store in your gardening tools. There are many garden tool storage items that you can buy anywhere, even online. However, that will cost you money.
Instead of buying storage items for your garden tools, why not create your own garden tool storage? You will be surprised at how much many you will save by creating some DIY garden tool storage. What's more, you can be resourceful and not spend even a dime.
Some people find self-created garden tool storage to be hard to make. Luckily, this article will give you some easy and fast suggestions in making your own garden tool storage. Here are ten creative ideas that you should try. Do you keep a generator in your garden, such as in this Wen Generator Review? Then you can find some tips on how to hide it to keep your generator out of sight but still functioning!
Garden Tool Storage Bench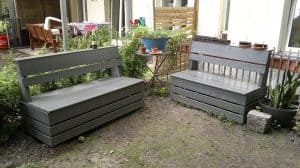 Do you have a bench in your garden? Most likely, you do. People place benches in their gardens so they can sit back, relax and enjoy the ambiance their gardens possess. Instead of buying a garden tool storage, that you will need to make room for in your garden, why not turn your bench into a storage?
In order to create this, all you need are your garden bench, wood planks, drills, screwdriver, screws, and marking tools. This is done by turning the four stands into a long box. Cover the back, front, and right side of the stands and make a door at the left side so you can open and close the tool storage. And for the finishing touch, paint your bench in any color you like that will compliment your garden.
Monkey Bars
Do you have some old monkey bars that your children are too tall to play on? Make it useful again by turning it into a tool rack. All you have to do is get some wood and building tools. You just need to narrow the opening at the top by placing wood vertically and horizontally so that only the garden tool handles can fit. This is a perfect storage rack for your hoe, shovel, rake and many more.
Zombie Wall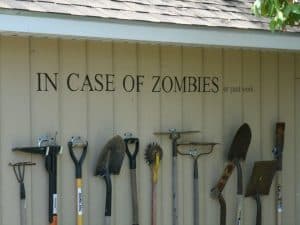 A Zombie Wall can be done by turning your walls into a hanging spot for your garden tools. In making a zombie wall, you need some drill, screws or nails, and wall hooks. You just need to pick a side of your wall, whether it is your house, fence or whatever, that you can easily access. Drill some holes and screw in the wall hooks. Then, hang your shovel, pike, rake, hoe and any other garden tools that you can hang on the wall.
Pallets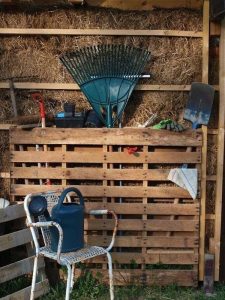 If you have old pallets at home, you can turn them into a garden tool storage in many ways. One way is turning it into a table. With the help of chains as support, you can attach the pallet on a wall creating a table. Pallets have openings that broomsticks, rakes, and shovels can fit in. You can also place your water can and pots on the table.
Another way to turn pallets into a garden tool storage is by turning it into a vertical garden tool holder. All you need are nails, bolts, screws, wood, and a hand drill to make this. You just have to attach the pallet vertically on a wall. This will make your garden tools stay in a trimmed position.
Old Closet
Do you have an old closet in the house that you no longer use? Bring it out of the house and turn it into a garden tool closet. Just do a little remodeling so you can fit all of your gardening tools in there. You can also use the inner part of the closet doors by attaching some mini baskets where you can put your fertilizers, hand gloves, and other small gardening materials.
Water Hose Basket
Turning your water hose into a basket is something very creative. A water hose basket can securely contain your small garden tools like gloves, hand shovel and, more. You can also think of other storage items you can turn your hose into. To know how to make a water hose basket, please watch the video above.
Old Mailbox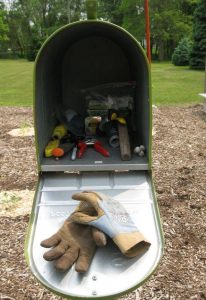 Honestly, you do not need to get all crafty in creating your own garden tool storage. All you need is to reuse any items you have at home that can be perfect for a garden tool storage. One of these items can be your old mailbox. You can just place your garden tools that can fit in the mailbox and that's it.
Old Rake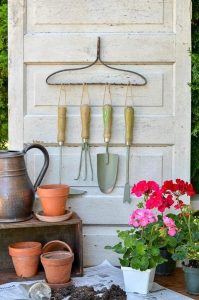 If you think a water hose basket is creative enough, wait until you find out how much of a garden tool organizer your old metal rake can be. All you have to do is get you old rake without the handle and attach it to a wall. All you have to do now is to hang your garden tools in place.
Sand Pots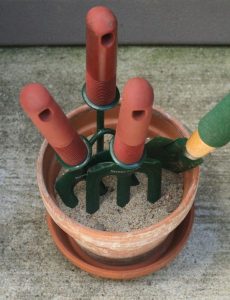 Do you have a lot unused clay pots in your garden? Instead of throwing them away, you can also turn them into a garden tool storage. All you have to do is fill the posts with sand. After cleaning your garden tools, stick your garden tools like hand shovels in the sand pot. This will not only keep your tools securely stored, the sand will also keep your tools dry and clean.
PVC Holders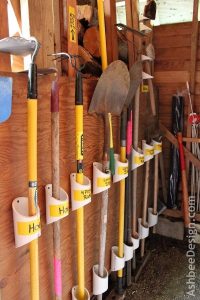 You think there is no way that PVC tubes can be a garden tool storage? Well, think again. All you need are screws, a drill, wood, and a saw. Cut the PVC tubes with the saw to create smaller tubes. Then, drill a hole in the PVC tubes. Screw them on a wood plank. To this repeatedly until you place enough PVE tubes. Then, attach the wood plank on a wall. The PVC tubes will serve as garden tool holders.
With these, you can clearly see that you do not need to spend money to keep your garden tools properly stored. All you need is to get creative and resourceful on what you have at home. If you cannot think of anything, the world wide web is filled with ideas that you can try on your own.